The Assessment Builder allows creating assessments by using and combining practice tests or assessments already created. To filter the questions bank (the list of questions available from both practice tests and assessments):
Access to Assessment Builder by clicking on Tools > Assessment Builder.
Click on + NEW ASSESSMENT.
Fill out the basic information fields.
Click on Next.
Select the type of assessment that you want to create:
Custom assessment: select the questions that you want to include in the test, based on skillgroups and subskillgroups.
Random assessment: questions are selected randomly from the chosen test.
Search the tests you want to use. There are three options available:
Filter by difficulty level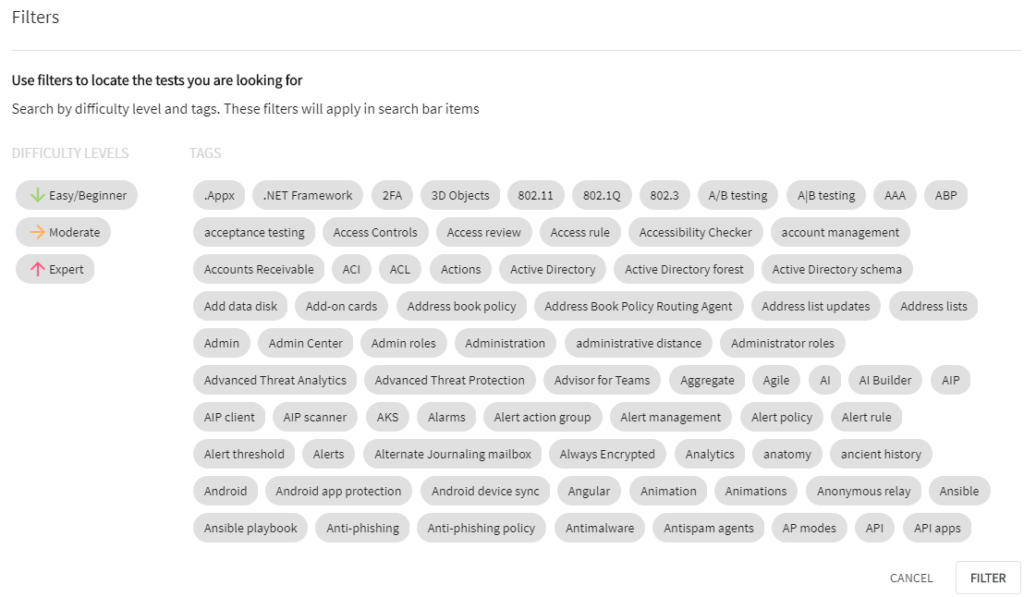 Click on Filters.
Select the difficulty levels and the tags.
Click on Filter.
Search the tests

In the Search test field, type your keyword.
Click on SEARCH.
Select the Assessment you want to use.
Use the Recommended for you
In the RECOMMENDED FOR YOU section, check the tests you want to use.
Select your favorite tests.
Click on NEXT.
Click on GENERATE.
---
What would you like to do next?