There are currently two ways of creating content on the platform:
Manually, where the user writes the content directly in the platform.
Importing existing content, which will be automatically performed by the import tool.
This section is focused on the second option and shows how to use the necessary template to import the content to the platform.
There are two templates that can be used to import an exam. Currently, the Import Tool only can be used with .doc (Word), .xlsx (Excel), and .zip files. It is commonly used Word file since it is easier for writing this type of content, so we will focus on Word Document:
Once the file (Excel or Word) has been created, it is time to upload it to the Authoring Tool.
In order to do it, you will need a valid user and access to the Authoring Tool (currently this is restricted depending on the role you are assigned to; for instance, Students aren't able to, but Editors and Administrator are).
Once you are logged in your account, click on the Authoring Tool.
Go to the Tests section on the menu to the left side.
You must click on the Import button:

Note. You can download a template about how the file must be.
You will see a new window where you can drag and drop the file to import: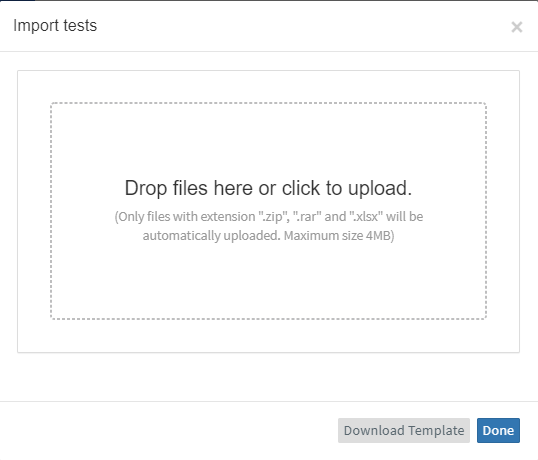 While uploading, you will see a loading window. This might take several minutes.
---
What would you like to do next?
Do you want to create the .doc for import a test? Click here for more info.
Do you want to create a new test? Click here for more info.