The Assessment Builder allows you to manage your created assessments. To do so:
Video
Steps
Access to Assessment Builder by clicking on Tools > Assessment Builder.
The main screen displays all the assessments that have been created under your organization.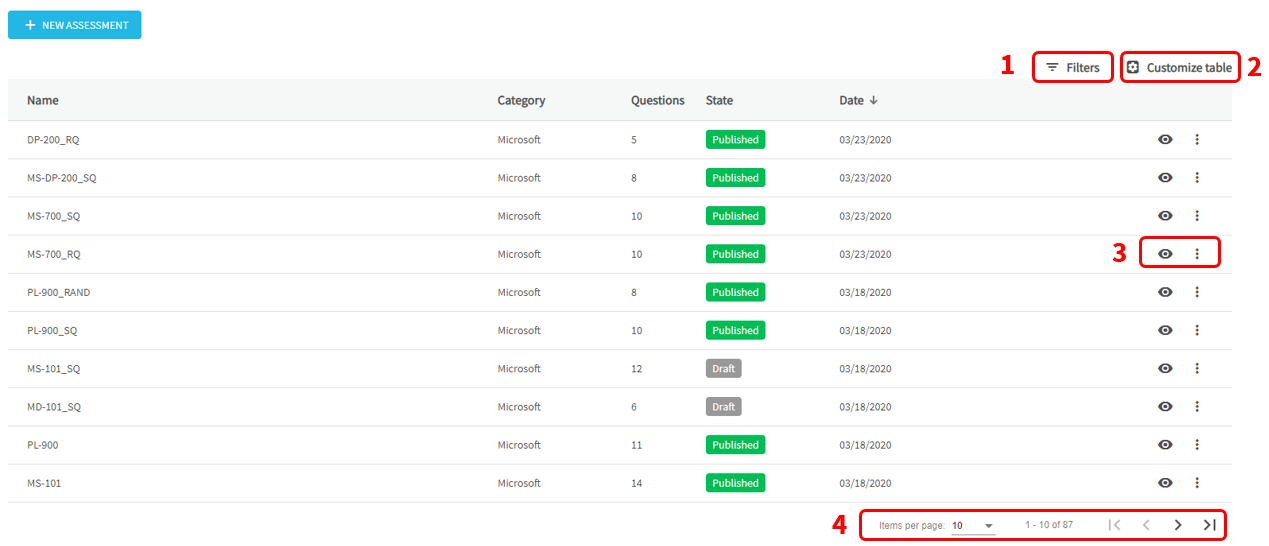 To search for an assessment, you can use the Filters;

Click on Filters.
You can filter by Name, Category, Questions, State, or Date.
Note. Use Clear filters, to clear all applied filters.
To customize this table:

Click on Customize table.
Check or uncheck the options you want to show.
Note. You can only select a maximum of 5 columns.
To manage an Assessment already created.

Click on to access preview.
Click on and, select an option:
Details. It displays the details of the Assessment:

Edit; to edit the assessment. A published assessment cannot be edited.
Duplicate: to duplicate an assessment.
Publish: to publish an assessment.
Delete: to delete an assessment. A published assessment cannot be deleted.
Select from 5, 10, or 25 entries to be displayed on the user list. Navigate between the pages by clicking on the First page, Previous page, Next page, or Last page.
---
What would you like to do next?