When purchasing a product, you will receive a Product Key in your order notification.
The key must be registered in your​ Learning Locker within 30 days of purchase. Please register it during this time period. In case you have any issues, please contact the Support Team.
Products are displayed in your Learning Locker as boxes or as a list. To change the display, click on one of the two buttons on the right of the main toolbar.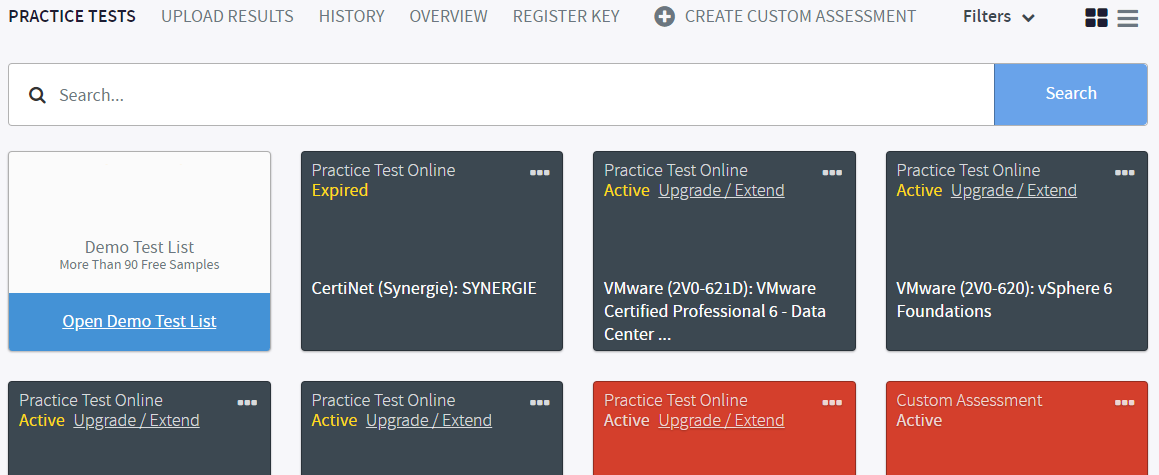 Both views contain the same information:
Status. You can see the product's status:
Active. Available to use.
New. The product has just been registered.
Expiring soon. The expiration date is approaching.
Expired. The expiration date has been reached and the product is not available.
Upgrade/ Extend: click here if you want to extend the time to study or the option to study offline.
Name. You can see the product title and the product code.
Score: have a quick view of your performance, just by checking the color of the product icon:
Grey. No attempts have been made in the Certification mode.
Dark Red to Light Yellow. Keep studying. The average score of your attempts is less than a passing score.
Light Green to Dark Green. Good job! the average score of your attempts is equal to or greater than the passing score.
Note. This feature only works when you have finished a test in Certification Mode, and it displays the average score. The color of the icon will change as you study.
Test details. Click on the dots on the product tile.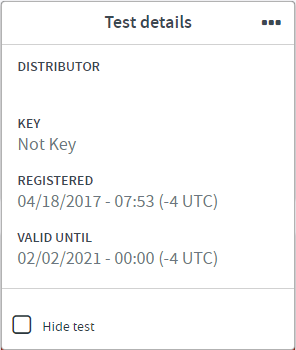 For each product, the test details include:
Name of the distributor
Product key.
The number of machines used (only for Download Practice Tests).
Registered date: ​ This is the date when the​ Product Key was registered. This is the first day of use of your product, so if you have purchased a Practice Test online the time of your product starts counting from this day.
Valid Until date:​ This is the date when your product will expire. As this date approaches the status of your product will change to​ Expiring soon. Once this date has passed the status of the product will be​ Expired, and the product will be unavailable to use unless you extend or upgrade it.
Note. These dates do not apply to Download products. You will always be able to download the product on a maximum of 3 computers.
Hide Test checkbox. You can temporarily hide each product to keep your Learning Locker uncluttered.
---
What would you like to do next?
Do you want to launch a Practice Test or an Assessment? Click here for more info.
Do you want to use a Practice Test? Click here for more info.
Do you want to use an Assessment? Click here for more info.