When a new test is published in the Authoring Tool, it will be also displayed automatically in the Catalog, so It is very important to edit it as soon as possible to manage its options.
Edit your created tests by following these steps:
Once you are logged in your account, click on Partner Portal.
Click on Administration.
Click on Products.
The following screen will display all your products.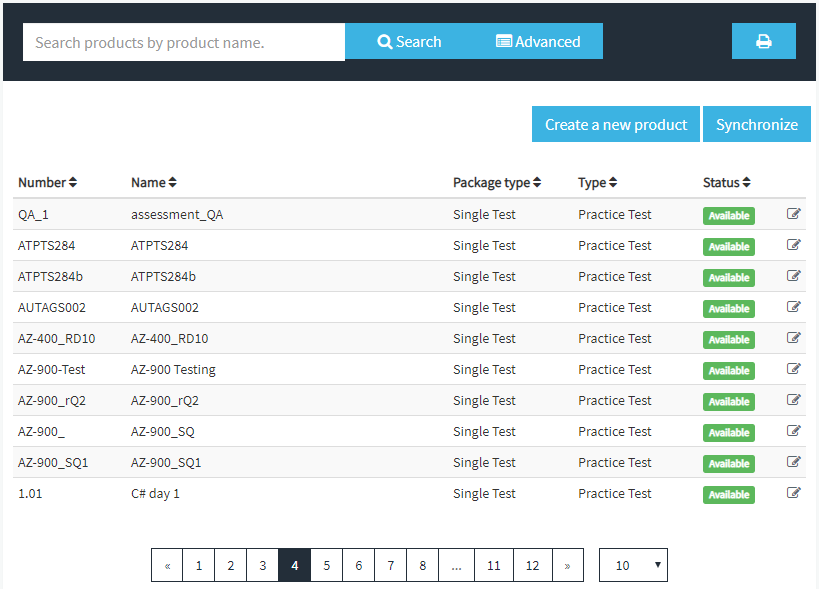 Search for the test.
You can use two procedures:
In the Search field, type the product name and click on Search.
Click on the Advanced button, fill all fields you want to use, and click on Search.
Click on the Edit button (at the right of the product name).
In the Edition page, change or edit the product options: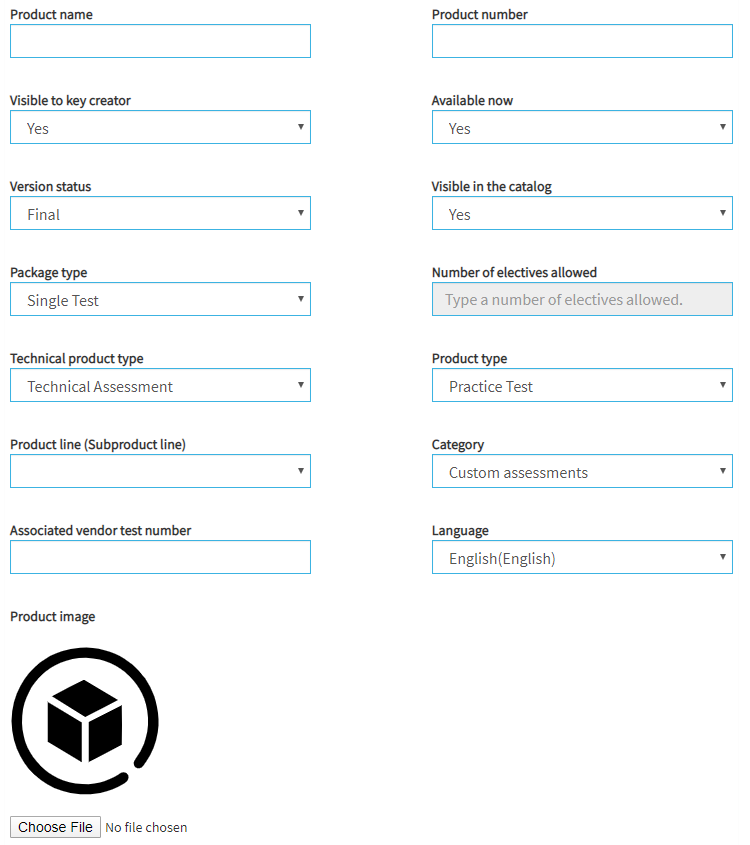 Product name. This name will be shown in Catalog and will identify the product.
Product number. This number identifies the product.
Visible to key creator. Select if the product will be visible to the key creator.
Available now. Select if the product will be available in the Catalog.
Note. You can create a product for your own use. The product will be shown in the Catalog, but the organization is not able to use it.
Version status. Choose between two options: Final or In development.
Visible in the catalog. Hide the product in the Catalog.
Package type. Select between Single test and Multiple tests.
Number of electives allowed.
Technical product type. Select a technical product type.
Product type. Select a product type, There are three types available: Exam voucher, Online course, Practice Test.
Product line (Subproduct line). Select a product line.
Category. Select a product category.
Associated vendor test number. Type the associated vendor test number.
Language. Select a language.
Product image. Choose an image for the product. This image will be shown in the Catalog.
Note. Click on See the rules if you want to see the rules for the file:
Extensions allowed: jpeg, jpg, bmp, png and gif
Max size: 1MB
Max dimensions: 1000×1000
Min dimensions: 200×200
Click on Edit.
---
What would you like to do next?
Do you want to create a new test? Click here for more info.
Do you want to publish a test? Click here for more info.