When finishing an online Practice Test, its Test Score Report will be available. This score report is a summary of your results for this attempt. A new Test Score Report is generated after every attempt. If you are using an Assessment, you may not be able to see your Test Score Report. This option is configurable when the teacher or administrator is generating the key.
Note. You can review all your Test Score Reports, through the HISTORY tab in your Learning Locker.
Video
The main screen of the Test Score Report has several features: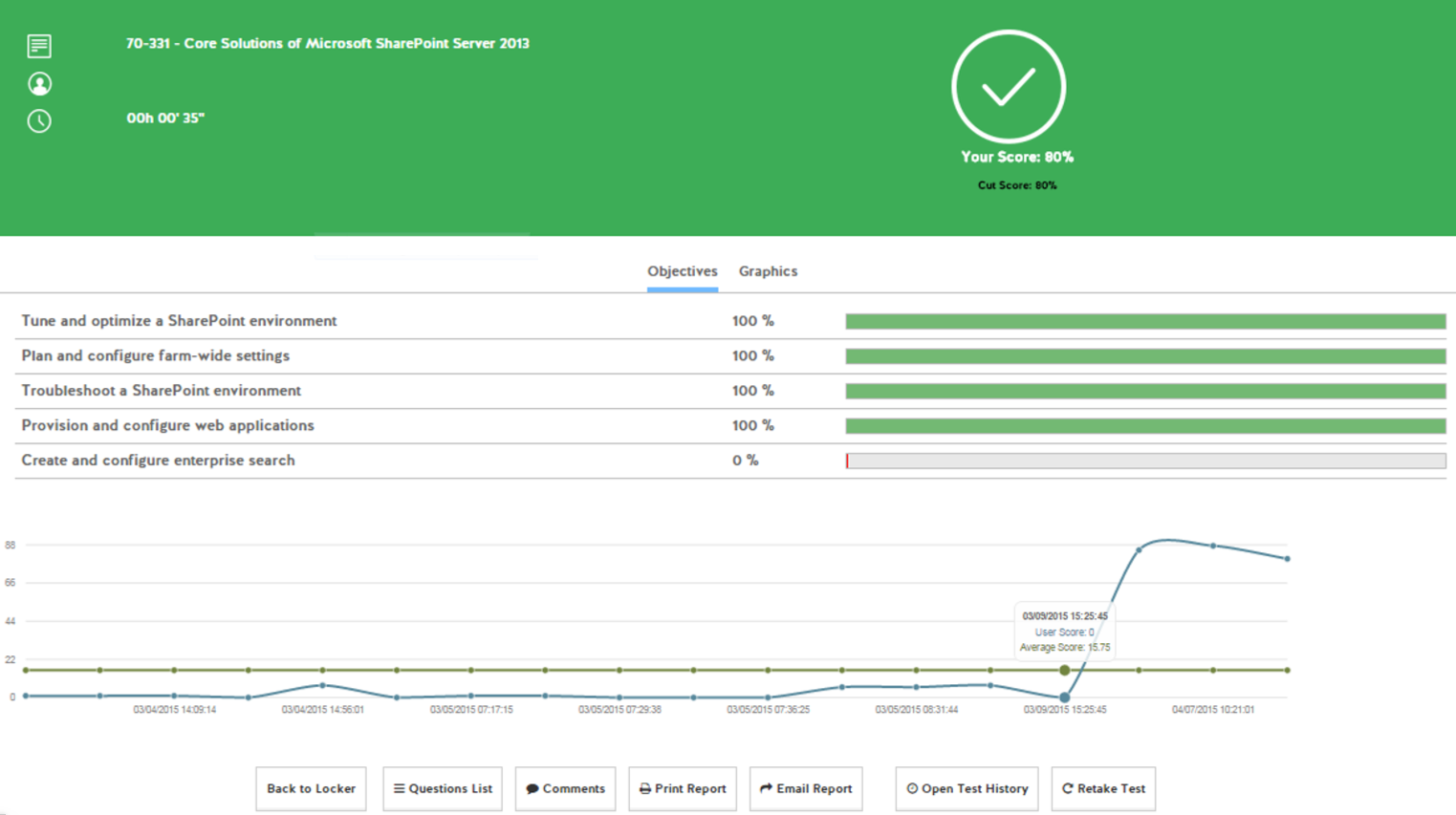 GENERAL INFORMATION. The banner at the top of the page tells you what test you took, how much time you used, and your score. The color on top of the report will be green if you received a passing score and red if you did not.
OBJECTIVES. In the second portion of the report, you will see a list of test objectives along with your performance for each. The color of the bar also indicates whether or not the objective was passed for failed.
GRAPHICS. The graph shows your overall progress for this test. If you hover your cursor over the graph you can view the information for each attempt, including the date and time, user score, and average score.
TEST SCORE REPORT toolbar. The following buttons are available:

Back to Locker. Return to the Learning Locker.
Question List. Review the questions of the test you just took. You can list the questions by questions or by objectives.
Either option will show you the status of each question: Unanswered, Pass, or Fail. You can review each question by clicking on the question. A new screen will appear with your answer and the option to show the correct answer and an explanation.
Comments. Send feedback directly to the customer support team.
Print report/email report. Create a PDF version / send the report by email.
Open Test History. Open the test history. You can review all your score reports.
Retake test. Start a new test from the beginning.
---
What would you like to do next?
Do you want to see a score report (download)? Click here for more info.
Do you want to update a score report? Click here for more info.
Do you want to launch a Practice test or an Assessment? Click here for more info.